Basic Framework of Kampong Bharu Development
1. Kuala Lumpur Structural Plan 2020 (PSKL2020)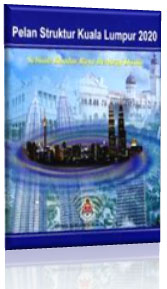 The basic thrust outlined in PSKL 2020 in developing Kampong Bharu is explained through Development Strategy 6.4.4:
Customising and implementing a Comprehensive Development Area. The strategy described that Kampong Bharu as one of the area known as Comprehensive Development Area (KPK) will be comprehensively planned and developed as an integrated mixed-use development consisting residential, trade and industrial use including utility in accordance with the number of population.
Each KPK will also be equipped with transit terminal which connects major activities in the area and around the centres of district being developed.
2. Kuala Lumpur City Draft Plan 2020 (DPBRKL 2020)

The PBRKL 2020 Draft provide the detail specification of the PSKL 2020 by creating a strategic target set for Kampong Bharu area. Strategic Target 9.4: Regeneration of Kampong Bharu.
KB1 : Enhancing growth by encouraging innovative solutions in planning land development;
KB 2 : Redevelopment of areas with catalyst activities;
KB 3 : Preservation of Muslim-Malay based heritage, architectural and Cultural Values;
KB 4 : Development of infrastructure network of high connectivity and accessibility;
KB 5 : Promoting the best urban design, which is liveable and balanced with the environment;
KB 6 : Municipal Development based on green technology; and
KB 7 : Sustainable, resilient and competitive development of human capital from the aspects of economy, physical, emotional, spiritual and intellectual.